SANDAV SPUW series - SPUW 650-3000
Description:
SANDAV SPUW series is coupled with the rugged and well-proven reliability of the world renowned MTU water cooled diesel engines. Apart from their reliability and long life time, the engines have low fuel consumption and emission values over a perfectly harmonized scope of performance and to offering the optimal solution to comply with any individual application.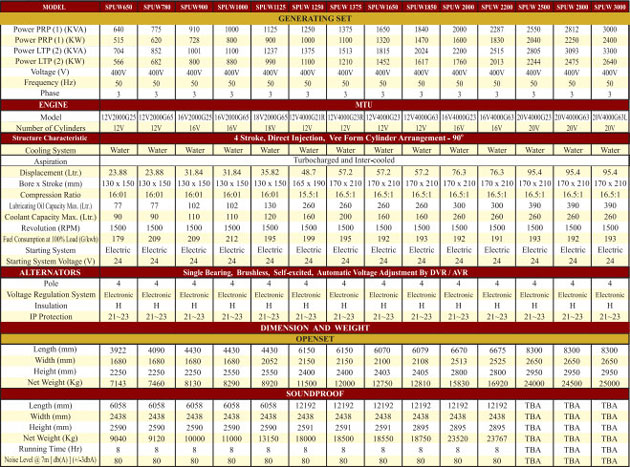 (1) Prime Power (P.R.P.) - ISO 8528: prime power is the maximum power available during a variable power sequence, which may be run for an unlimited number of hours per year, between stated maintenance intervals. The permissible average power output during a 24 hours period shall not exceed 80% of the prime power. 10% overload available for governing purposes only.
(2) Emergency/Standby Power (L.T.P.) - ISO 8528: power available for use at variable loads for limited annual time (500hrs), within the following limits of maximum operating time: No overload available. Applicable in case of failure of the main in areas of reliable electrical network.
Remarks: For other voltage and frequency, please send request to maker.
Disclaimer:
Due to our policy of continuous product development, we reserve the right to introduce changes and features to our products without prior notice. Models and versions may vary according to market.