SANDAV Control Panels
MCP - 01 with SANDAV 702
Manual Control Panel with Auto start (Analog)
- Analog instrumentations with Voltmeter, Ammeter, Frequency meter,
Hour meter, Battery charging indicator and Fuel indicator (optional)
- Engine protection unit with Over speed, Under speed, Low Oil Pressure
and High Engine Temperature
- Protection Device with Circuit Breakers and Emergency stop button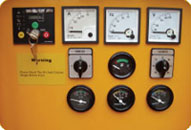 MCP - 02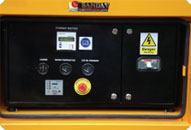 Manual Control Panel with Auto start (Digital)
- Digital instrumentation with Voltmeter, Ammeter, Frequency meter,
Hour meter, Battery charging indicator and Fuel indicator (optional)
- Engine protection unit with Over speed, Under speed, Low Oil Pressure
and High Engine Temperature
- Protection Device with Circuit Breakers and Emergency stop button
ACP with SANDAV 5220
Digital instrumentations with Generator Voltmeter, Ammeter, Frequency meter, Hour meter, Battery charging indicator, Fuel Level, Engine oil pressure, Engine speed, Power (KVA, KW, Cos), Mains Voltages, Mains Frequency
- Engine protection unit with warning and/or shutdowns
- Comprises of Alternator Under/over Volts, Alternator under/over
Frequency, Under/over speed, Low oil pressure, High Engine
Temperature, Over-current Warning/Electrical trip shutdown and High/low
battery Volts Warning
- Other capabilities include AMF Functions, Adjustable crank
cycle/attempts, External remote start input (on load/off load), Built in
Exercise Scheduler, Magnetic pick-up or Alternator speed monitoring,
Event logging of shutdown alarms, Full remote control and telemetry
(optional), 6 Digital inputs
- Fully user configurable, 3 Configurable relay outputs, LCD Back-lighting
for low light level operation, System lock input, SMS messaging capability
with suitable GSM Modem and Front panel configuration of various timers
such as start/stop delay, warm-up/cooling down, etc and alarm trip
points.
- Protection Device with Circuit Breakers and Emergency stop button
AMF Panel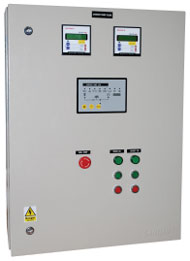 Automatic Mains Failure Panel (As Options)
The AMF panel is supplied separately as an option when there is a requirement for the Generating set to start automatically upon Mains failure and to transferring the Load to the Generating set and vise versa when the Mains return.
The Wall Mounted Panel includes:
- Digital instrumentations
- Engine Protection with alarm and shutdown
- Protection Device with Circuit Breakers and Emergency stop button
- Free Standing Cabinet (options)
Note:
- AMF for 5-200 kva is equipped with SANDAV AMF 4120 module
- AMF for above 200 kva is equipped with SANDAV AMF 5220 module)
Synchronizing Control Panel (As Options)
The Synchronizing Control Panel can be supplied as option where there is a need to control 2 or more Generating Sets with Load sharing capabilities with the Mains.
PARTS AND SERVICE
SANDAV PACIFIC recognizes the importance of After-sales service for all Sandav Generating sets. Hence, we have developed our own critical components to ensure timely and accurate support to our customers.
Our commitment to our worldwide customers start from initial contact to throughout the whole lifecycle of Sandav Generating set.
Disclaimer:
Due to our policy of continuous product development, we reserve the right to introduce changes and features to our products without prior notice. Models and versions may vary according to market.